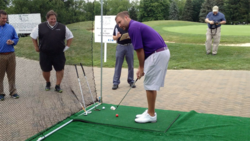 Sewickley, PA (PRWEB) June 09, 2012
Tailgate Golfs Putt & Chip Contest was played to raise money at PGA Touring Pro Rocco Mediates Celebrity Charity Golf Tournament For the Love of the Game. The event took place near Roccos hometown in Western Pennsylvania at the Sewickley Heights Golf Course on June 5, 2012. The event raised thousands of dollars to benefit several charities that focus on providing help to less fortunate children.
Tailgate Golfs Putt & Chip Contest combines their award winning golf games that are based on popular leisure sport games cornhole and shuffleboard with golf. Each golfer received 6 shots, 3 chips and 3 putts with scoring similar to their respective counterpart games for a chance to win a top of the line, custom Scotty Cameron Putter.
Children, golfers, and celebrities alike all lined up to play the Putt & Chip Contest sponsored by Tailgate Golf. Players were encouraged to make a contribution to Roccos charities and for a chance to win a Scotty Cameron Putter. At the end of the one day event, everyone had a lot of fun chipping and putting, and the charities received a sizeable donation from Tailgate Golf.
Current and former Pittsburgh Steelers greats like Ben Roethlisberger, Lynn Swann, L.C. Greenwood, Louis Lipps as well as the Stanley Cup winning head coach of the Pittsburgh Penguins Dan Bylsma and many others lined up to play.